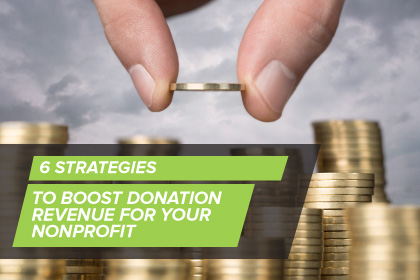 Almost all nonprofit professionals focus their efforts on growth in one way or another, and your team is likely no exception. After all, growth plays a key role in increasing your nonprofit's impact. You want to boost donation revenue
The first step to achieving this growth is doing everything in your power to increase your nonprofit's productivity in the office and to stretch each dollar to its limit, eliminating waste. The next step is to work hard at your organization to boost revenue so you can expand your programming.
Luckily, there are some simple actions you can take to boost your nonprofit's revenue without planning extra fundraisers or dramatically changing your approach. In this article, we'll discuss the following six concrete steps your nonprofit can take to boost revenue and grow your organization:
Track your organization's retention rate.
Focus on building relationships.
Offer recurring donation options.
Provide suggested giving amounts.
Reduce donation page abandonment.
Go the extra mile to say thank you.
As you focus your efforts and attention on growth, be sure to create a fundraising plan to help stay organized. For instance, download Bloomerang's development plan template for free to track your fundraising initiatives. Then, implement the strategies in this guide, and watch your organization exceed your expectations!
1. Track your organization's retention rate.
Retaining your supporters is one of the best ways for your organization to save money on fundraising outreach and earn more revenue. That's because it's less expensive to retain your supporters than to attain them, and as donors stay engaged with your organization, they're more likely to increase their average donation amounts.
Before launching new donor retention focused strategies, you'll need to calculate your current donor retention rate to monitor if your initiatives have had the desired impact. Use this formula to find your starting donor retention rate: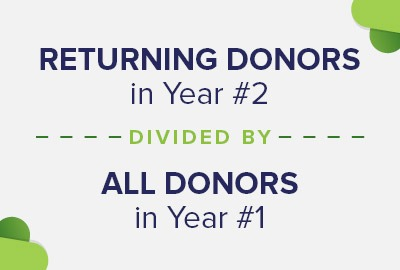 Then, track this rate from year to year and month to month. Start off by comparing your donor retention rate to the national average (which has hovered around 45% for the last 15 years). Once you have your starting point, you can focus on improving your own rate over time.
The following example shows how improving retention rate by just 10% can result in hundreds of thousands of dollars in savings for nonprofits.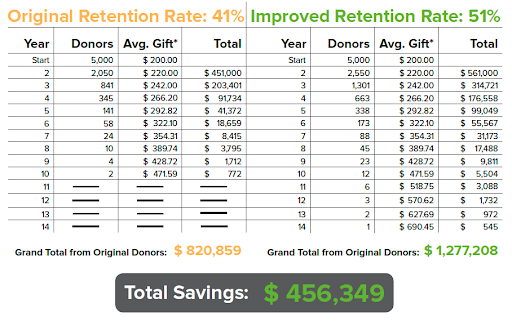 Improving your donor retention rate all starts with tracking this key performance indicator so that you can view your progress and determine which strategies are effective. But how can you improve this metric? You can do this by engaging your supporters, personalizing messages to them, and building relationships, as we'll discuss further in the next section.
2. Focus on building relationships.
Building and maintaining a strong relationship with your supporters keeps them coming back to support your nonprofit over and over again. Therefore, building relationships is key for boosting your retention rate, raising more funds, and encouraging supporters to give more.
You can build relationships by showing your supporters that your organization cares about them as individuals. This means that mass emails sent to everyone in your organization's donor database will do little to form meaningful connections.
Make the most of your interactions with your supporters by leveraging the information in your donor database to appeal to them individually. This doesn't mean sending one-off emails to each person. Instead, use strategies like the following to build personal connections:
Create donor segments in your CRM. Segmenting donors allows you to target different "types" of donors with your messages, writing messages that are tailored to each group. We recommend crafting segments around the giving habits of your supporters, focusing on their donation's recency, donation type, donation amount, donation frequency, and reason for donating, along with other relevant details.
Addressing donors by name. Be sure to address them by their preferred name. "To whom it may concern" and "Dear Donor" emails just won't cut it when you're working to personalize interactions. Whether you're calling supporters on the phone, sending an email, or writing a letter, double check your CRM to be sure you've included their preferred name and spelled it correctly.
Making face-to-face connections when possible. When you have the chance to connect with supporters in person, take it! At events, review the supporters (especially major prospects) who will attend beforehand so that you can start conversations with them. Or, set up planned meetings with supporters to get to know them better.
Building relationships with all of your supporters can strengthen your donor retention rate and help your nonprofit raise more funds over time. Plus, it's essential for cultivating your major gift program.
It's rare that a kind stranger swoops in and donates a major gift to an organization they don't have a relationship with. Generally, major prospects start off as average donors, but as the relationship grows, so do their donations. Pay special attention to your major and mid-tier prospects and focus on growing your relationships with them to amplify your impact.
3. Offer recurring donation options.
Recurring donations are gifts that donors give to nonprofits on a regular basis, usually monthly. Double the Donation's nonprofit fundraising statistics guide even credits the 40% increase in online monthly giving to recurring donation signups.
These types of donations aren't just popular with supporters. They also provide substantial benefits for nonprofits, including sustainability and larger donations:
Sustainability: Donations vary by the time of year, and some seasons offer more revenue than others. For instance, the end of the year is the most lucrative time for most organizations, while the summer months might present a lull in giving. Monthly donations ensure your organization has funding coming in no matter the season.
Larger donations: Which is greater? An annual donation of $100 or a monthly contribution of $10? A monthly donation of $10 equals $120 throughout the year, making it the more lucrative option. Plus, making low monthly donations that add up throughout the year are generally more accessible for donors, which means monthly giving is a popular way to increase revenue.
To find your potential recurring donors, look for those who already give to your organization on a regular basis. Reach out to them and offer the recurring donations program as an easy way for them to give without inputting their information every time.
You should also make sure to offer this option directly on your giving page. Make it easy for supporters to click a button to make their contribution monthly.
4. Provide suggested giving amounts.
Providing recurring donation options on your giving page isn't the only way you can drive additional donations. Another easy way to boost donation revenue is to add suggested giving amounts to your donation page.
Suggested giving amounts are buttons on your donation page that allow donors to simply choose the gift amount that best suits their budget rather than stressing over the "right" amount to give. 
When you add suggested donation amounts to your giving page, it will end up looking something like this: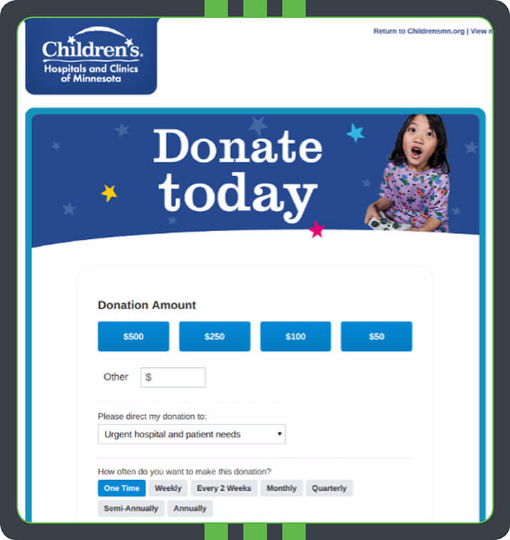 This strategy provides a frame of reference for how much your nonprofit expects to receive from average donors, often securing slightly higher donations than your average gift. It also speeds up the giving process, making it faster for donors to contribute.
Take your average donation size into account when setting your suggested giving amounts. For instance, if your average donor gives $20, you might set your suggested amounts at $10, $25, $50, and $100. Your average $20 donor is much more likely to choose the $25 option in this case, increasing your average donation size over time.
5. Reduce donation page abandonment.
When donors become impatient with your giving process or change their mind halfway through, they abandon their gift, increasing your organization's donation page abandonment rate.
You can decrease abandonment rates, keep more supporters on your site, and increase donation completions by taking a few precautions on your giving page. We recommend the following strategies:
Cutting down on unnecessary questions. It's tempting to collect information about your supporters during the donation process, such as their demographics or interests. But asking too many questions provides more opportunities for supporters to abandon your page. Instead, try asking supporters to complete a survey after they've hit "submit."
Choosing your images carefully. Choose one or two images to include on your donation page. Having too many images will distract your supporters while just one will represent your organization, drive emotion, and ultimately lead them to continue filling out your form.
Creating standout calls to action. Your call to action is the final "submit" or "donate now" button on your donation page. By making this button stand out, your supporters will clearly know that they are finishing the process and taking their final step to contribute.
If you're looking for a giving page that will accomplish all of these strategies, from recurring gifts and suggested amounts to streamlining the process, keep in mind one more strategy: Integrate your solutions. Even if your donation page has everything you need, it will still create a challenge for your team if it doesn't integrate with your CRM. Make sure all of your tools are interconnected so that you can make the most of each one and capture the data they collect.
6. Go the extra mile to say thank you.
Your donors drive your mission forward. Without their help funding, volunteering, and otherwise contributing to your organization, you wouldn't be able to work so diligently toward your mission. Make sure to show donors the appreciation they deserve!
When donors stop giving to nonprofits it's often directly tied to the appreciation donors are shown. About 13% of donors stop giving because they never got thanked for their support, and 9% stopped giving because they have no memory of having donated in the first place. By saying thank you, you can boost the number of supporters who continue to give to your organization. By going above and beyond in your appreciation, you can stay top of mind for your supporters and encourage them to stay involved.
Whether you're thanking your first-time donors, monthly contributors, or in-kind contributors, going above and beyond to show your appreciation will give supporters a warm and fuzzy feeling about their contribution. Here are some ways you might take your thank you to the next level:
Sending t-shirts or branded merchandise to donors
Picking up the phone and calling donors to say thank you
Providing a welcome packet explaining the details of your mission to new supporters
Hosting an exclusive event to say thank you to your supporters
There is a lot of power in a simple "thank you." By doing more than the average nonprofit to show your appreciation, you'll make your organization stand out from the crowd and encourage supporters to stay involved.
The Bottom Line
Nonprofits focused on growth often worry about what their next big fundraiser will be or how they can pack their schedule full of opportunities for supporters to give back. However, there are probably some small actions you can take to boost donation revenue within your current strategies. These six tips will help get you started. Then, consider how you can continuously improve your fundraising strategies in other ways. Happy fundraising!
About the Author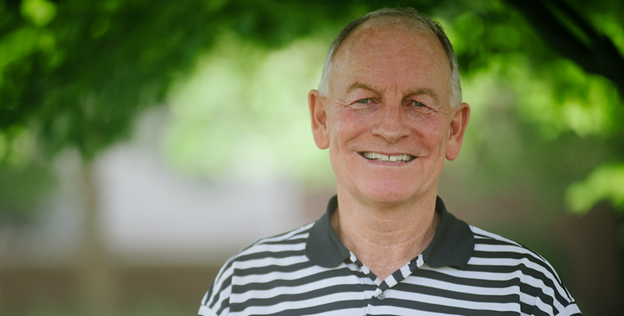 Jay Love, Co-Founder and current Chief Relationship Officer at Bloomerang has served this sector for 33 years and is considered the most well-known senior statesman whose advice is sought constantly.
Prior to Bloomerang, he was the CEO and Co-Founder of eTapestry for 11 years, which at the time was the leading SaaS technology company serving the charity sector. Jay and his team grew the company to more than 10,000 nonprofit clients, charting a decade of record growth.
He is a graduate of Butler University with a B.S. in Business Administration. Over the years, he has given more than 2,500 speeches around the world for the charity sector and is often the voice of new technology for fundraisers.