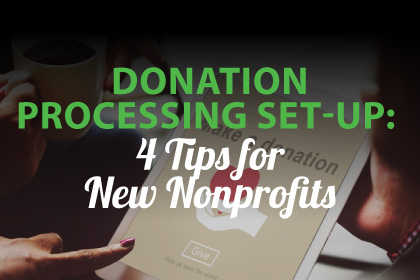 Setting up an online donation system might seem like an easy next step in your nonprofit's journey. After all, how difficult can it be relative to all the hard work that it's taken to obtain donor support in your community in the first place?
The answer is more complicated than many people might expect. With no pre-planning, quickly setting up an online donation tool certainly might be easy and quick. However, ensuring the security, efficiency, and usability of your system takes care and attention.
For newer nonprofits, making informed decisions about how to get set up with donation processing can be especially difficult, and for good reason. It's a complicated process. That's exactly why we've compiled a few essentials about the donation system implementation process:
Invest in a secure online payment processor.
Identify how your payment processor fits into the donor journey.
Transfer current data to your new donation processing tool.
Integrate your processor with your donation page.
While it will take extra patience and planning to launch a system optimized to your donors' and your own needs, the benefits are well worth the work. Not only will you protect donor data from security threats, but you can increase your overall productivity, appear more professional, and boost donor retention over time.
1. Invest in a secure online payment processor.
Security should be your first priority. The greatest risks to professional reputation, revenue, and donor trust can be created by a poorly secured donation processing system.
On the other hand, a safe and secure system builds confidence between nonprofits and their supporters and strengthens the good standing of the organization.
For example, the iATS buyer's guide to nonprofit payment systems provides a listing of popular donation processing networks, detailing the various ways that these systems' security features function beyond just protecting donor data.
For one thing, donors will be far more inclined to give to nonprofits that prioritize the protection of their gifts. Similarly, grant-giving organizations are more likely to vet nonprofits that have taken extra steps to ensure program functionality, reliability, and safety.
Good security also increases system efficiency by bringing in donations without a hitch. On top of all that, it allows you to better collect data to understand donors and how they interact with your organization. These insights can be used to improve your operations, increase dwell time on your site, and perfect future campaign strategies.
By contrast, Bloomerang's short guide to nonprofit cybersecurity goes into depth about the danger of poor security practices. It cites the Save the Children and Utah Food Bank breaches as especially costly examples of weak security measures. Worse still, these scandals caused long-term damage to these organizations' reputations.
It's best to avoid such expensive mistakes in the first place. A small investment will go a long way to protect your organization, and anti-fraud protections like card encryption, tokenization, and PCI compliance are just a few safety measures of many you might want to consider in your search.
Of course, the security features and logistics of each payment processor will vary. The most important thing is that your organization makes an informed, concerted effort to protect both your own data and the data of your donors.
2. Identify how your payment processor fits into the donor journey.
Now that you're started strategizing with your donors' best interests in mind, it's time to take things one step further by thinking entirely from their perspective. For instance, how and where would the average donor encounter your nonprofit? What does their donation research and decision process look like?
This is called the donor journey or donor experience, and it is essential to cultivating and retaining relationships with your supporters. By understanding what the average person considers while navigating your website you will be able to optimize the experience.
A critical leg of this journey includes the decision phase, where a donor commits their support to your organization. This could include joining a mailing list, following your social media, or making a gift to your cause through your online donation form.
That being said, just because a donor has entered the payment process does not mean their donation is secured. A poor payment processor can easily change your site visitor's mind. Anything from a messy user interface to a frustrating process for inputting payment information can send them clicking out of the system.
An ideal payment system would not only secure support, but also encourage retention and future giving. Look for features like:
It should be easy to locate, simple to use, and facilitate various methods of payment without issue.
The donation processing system is one of the last things a donor sees before they commit their support, making it essential to leave a good impression. A solid donation processing system makes it easy and safe for donors to explore and give however they wish.
3. Transfer current data to your new donation processing tool.
Speaking of data integrations, it's a good idea to integrate your current data with your new donation processor when setting up the service. This information is precious, and there's no reason to have to leave it behind or manually re-enter it when installing a new donation processing tool.
Find out if your payment processor offers initial migration support. Otherwise, you'll likely have to do the work yourself. This will entail encrypting and exporting any existing transaction data. Not only is this time consuming, but it presents a greater risk of losing these facts and figures. When adopting a new payment processing tool, look for one that can streamline or completely support the data migration process.
While we've already established the importance of keeping data secure, tracking your data is also essential. For this, you'll need an integration between your payment processing tool and your nonprofit's database or CRM. This allows you to analyze trends in how users engage with your donation tools and then respond accordingly by optimizing your operations.
This might include fine-tuning your user experience design, tweaking your page's meta tags, or reaching out to donors in a more inviting and dynamic way. For instance, data integration will help you keep track of donor contact information, which will then allow you to thank them when they give.
Donor appreciation is a particularly effective way to put tracked data to work for your mission. Showing gratitude to your supporters with more personalized communications or displays of recognition shows that you truly care about their contribution and plays a major role in donor retention.
This is one of many strategies you should consider when planning how best to act on the data you've collected. However, none of these methods are possible without the guarantee that your data is properly transferred, logged, and secured.
4. Integrate your processor with your donation page.
Here's yet another important part of integration that you should keep in mind. On the user experience side of things, integrating your payment processor and donation pages is a great way to make supporters feel more comfortable as they're giving.
Donors tend to be wary of a donation page that takes them to a third party site. This is not only an unnecessary detour, but it could make them feel as if their gifts and data are less secure than if they just gave directly through your site's donation form.
Solve this problem by choosing a payment processor that will integrate seamlessly with your own page. This will make the donation process easier on your donors, which will make them want to give again.
The iATS guide to donation page best practices outlines a few key ways that you can streamline your donation forms to make them more user friendly and optimize visitors' experiences. This includes opting for a comprehensive payment processing system that connects directly and securely to your own form without redirecting users.
However, the donor journey isn't quite over. After donors have submitted their gifts, you might also consider sending a customized donation receipt. Giving your supporters a warm, earnest "thank you" is yet another way to maximize their experience and encourage future gift giving.
These methods will not only help to make your supporters feel more appreciated, but also more comfortable and confident as they easily navigate your integrated donation system.
The Bottom Line
Showing appreciation for your donors doesn't just mean sending gifts or putting their name on a plaque. When you're mindful of how they experience the donation process and adjust accordingly, you exercise a powerful kind of gratitude that will be rewarded with higher donor retention and gift giving. The right interface will make them more assured in giving to your organization and eager to stay connected with your cause.
Take the time to think through your own donation processing. Now that you're mindful of the right qualities to look for in a processor, your new nonprofit will be well on your way to gaining more revenue and cultivating closer relationships with donors.
About the Author
Peggah is a passionate Sales Executive with 10 years' experience providing payment solution support and guidance to nonprofits.