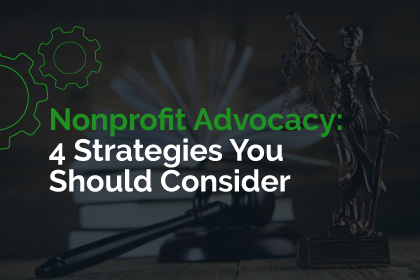 Nonprofit advocacy campaigns give your supporters a new way to get involved while furthering your mission through grassroots action. Plus, your nonprofit can attract new supporters interested in advocacy to your cause, growing your supporter network of donors and volunteers.
Nonprofit advocacy campaigns require focused planning and robust software solutions and outreach resources. Effectively run campaigns, even if they have limited political success, can solidify your connections to long-term and recurring supporters.
You can give your campaign its best chance at success by keeping up with advocacy best practices and figuring out how to strategically apply them to your own efforts. To help your nonprofit organize future advocacy campaigns, this article will explore four strategies advocacy leaders should consider:
Market your advocacy campaign on multiple platforms.
Stay up to date with current advocacy trends.
Use your CRM to track relationships with supporters.
Focus on volunteer retention.
Keep in mind that advocacy campaigns are long-term efforts, and nonprofits with dedicated advocacy initiatives plan and launch new campaigns as needed to respond to upcoming and ongoing legislation. This means your nonprofit should consider short-term, day-to-day strategies, as well as long-term strategies that can span multiple years.
1. Market your advocacy campaign on multiple platforms.
Grassroots advocacy requires getting the word out to many different people across many different platforms. By creating multiple touchpoints, you'll help solidify your organization's brand identity while presenting calls to action in multiple places, increasing the chances a potential supporter will respond to your campaign.
Advocacy campaigns are known for approaching potential supporters through multiple methods, including door-to-door knocking campaigns, street canvassing efforts, and digital advocacy. However, if your nonprofit lacks the canvassing tools necessary for traditional advocacy outreach, you can still reach supporters through multi-channel fundraising.
CharityEngine's guide to multi-channel fundraising advises nonprofits to get in touch with supporters on a variety of platforms, including:

Email. Email is one of the most popular outreach platforms for nonprofits, and for good reason. An effective email can entice supporters with a compelling subject line and story, inform supporters about why their contributions matter, and provide them with detailed directions to get involved immediately.
Direct mail. Traditional mail does still have a place in advocacy campaigns. While digital marketing is cheaper and allows you to get in touch with supporters faster, direct mail can help supplement your online campaigns. Sending supporters a physical letter they can hold and consider can help build on your online campaign's momentum and urge supporters to take action.
Social media. Social media has a low investment cost and expansive potential audience. However, while it may cost very little to use, social media can quickly become a major time investment, especially if your nonprofit uses multiple platforms. If you have trouble keeping all of your accounts active, prioritize quality over quantity and focus on the platforms where you experience the greatest success.
Track your engagement rates on each marketing platform you leverage. While multi-channel marketing works by building up brand awareness across multiple touch points, you might see notably higher or lower engagement rates on certain platforms. This can be a sign to reevaluate your approach to some platforms or to consolidate your efforts and focus your attention where it has the greatest impact.
2. Stay up to date with current advocacy trends.
You're likely familiar with the phrase "work smarter not harder," and it applies to advocacy leaders, as well. Rather than following set, traditional strategies, you should seek to increase your campaign's productivity by researching current advocacy trends and developments.
Doing so allows you to understand the wider advocacy landscape your nonprofit operates in, and make necessary adjustments to your campaign to avoid potential obstacles or to take advantage of new opportunities. Here are a few sources you can look to stay informed about modern nonprofit advocacy:
Blogs and articles. Nonprofit and advocacy thought leaders are constantly writing new articles about developments in advocacy, advocacy strategies, and advocacy resources. Find trustworthy news sources and treat these blogs like you would your morning paper.
Bill tracking software. Bill tracking software allows you to monitor where key bills are in the legislative process. You can use this knowledge to structure your messaging schedule and to keep supporters informed about recent developments related to your campaign.
Other advocacy leaders. Maintaining positive relationships with advocacy groups in your community will help your nonprofit stay tuned in to local events and developments. Plus, by building relationships with advocacy leaders you can receive valuable referrals about top advocacy software solutions and fundraising consultants who can help take your campaign to the next level.
All advocacy campaigns need strong leadership, and you can improve your skills and inspire others by staying informed about the greater world around you. As with any professional skill, staying informed and keeping up with the latest trends is essential for bringing the most value possible to your organization.
3. Use your CRM to track relationships with supporters.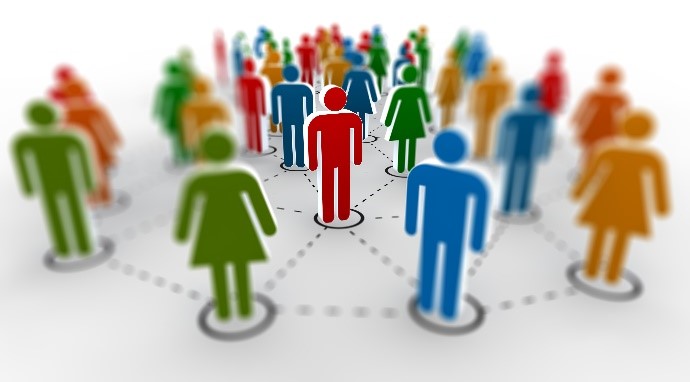 Like with your donors, you can use your CRM or volunteer management software to document developments in your relationships with supporters. Remember, while your advocacy campaign has its own unique goals, as an outreach effort it should still fit into your nonprofit's overall strategy. 
This means that you should document participation in your advocacy campaigns like you would any other type of supporter engagement, such as event attendance. Additionally, you should use your CRM and advocacy software to monitor:
If your volunteers followed through on specific calls to action. Advocacy campaigns often call on volunteers to take certain actions that involve individuals outside of your nonprofit. This means that you'll need advocacy software (either an external solution or through a comprehensive CRM) to monitor your supporters' progress in completing specific activities, such as contacting their elected officials.
How volunteers have engaged with your advocacy outreach messages. You can create better, more responsive advocacy messages by incorporating your supporters' preferences. Monitor how supporters respond and engage to your outreach materials, and adjust the platforms you communicate with them accordingly.
If your advocates are also donors. Volunteers often make the best, most reliable donors, and the same goes for new supporters brought in through your advocacy campaign. While your advocacy campaign has its own ends, you should still consider it as a stepping stone on your supporters' donor journey.
Some nonprofit CRMs, specifically all-in-one solutions, come equipped with advocacy software. If yours doesn't, make sure that your advocacy software and CRM are integrated to provide a comprehensive overview of your relationship with each supporter.
4. Focus on volunteer retention.
Just like you would your nonprofit's donors, you should also acknowledge and do your best to retain your advocacy initiatives' volunteers. Retaining volunteers from campaign to campaign through appreciate events, incorporating volunteer feedback into your programming, and providing volunteers with skill development opportunities results in a variety of benefits, including:
Cultivation of volunteer mentors. Experienced volunteers are often one of your new volunteers' best resources. Experienced volunteers can instruct volunteers on how to perform smaller responsibilities not covered in your onboarding training. Plus, encouraging volunteers to get along can help build a community around your nonprofit, increasing your ability to retain supporters.
Reduced recruitment and training time costs. Finding dedicated volunteers can be a major time sink. Between crafting volunteer recruitment materials, onboarding new volunteers, and scheduling work hours, managing volunteers can quickly become a full-time responsibility. By retaining your volunteers, you won't need to recruit or re-train as many new volunteers, saving valuable time that could be spent advocating for your cause.
Creation of volunteer grant opportunities. As Double the Donation's guide to volunteer grants explains, volunteer grants are essentially "free money" your nonprofit can earn. The more hours your volunteers work at your nonprofit, the more volunteer grants you can gain. Track your volunteers' hours and help them research and fill out any necessary paperwork they need to apply for a volunteer grant.
Volunteer retention is an ongoing process. Thanking your volunteers with cards and branded merchandise can go a long way, but the number one way to convince volunteers to return is to create a positive experience where your volunteers feel supported by your nonprofit.
The Bottom Line
Whether your nonprofit's advocacy campaign is targeting specific legislation or aims to more broadly spread awareness, you'll need targeted strategies to reach supporters and persuade them to join your cause. Invest in the necessary technical resources you'll need to stay in communication with supporters. Then, leverage your connections and software to make real change.
About the Author
Leigh Kessler is VP of Marketing and Communications at donor management software platform CharityEngine and a frequent speaker on branding, fundraising, data, and technology.  He is a former nationally touring headline comedian and has appeared on numerous TV shows including VH1's "Best Week Ever", CNN's "Showbiz Tonight", Discovery Channel & Sirius Radio. He has overseen and informed research and branding strategies for some of the most well-known brands in America.