Thanking volunteers for all they do is crucial to keeping your volunteers coming back again and again.
Yet it's something many organizations neglect to do.
And that's a shame.
Volunteers pour their heart into your nonprofit's work.
They're there to help with the heavy lifting of running a nonprofit and delivering programs.
Plus, they're probably your best ambassadors in the community, spreading the good word about the work you're doing.
Volunteers can
Save you money by providing labor so you don't have to hire staff.
Add to your bottom line. According to

Independent Sector

, the national average value of a volunteer hour is $28.54 which makes volunteer hours add up fast!
Save you time by doing tasks you need done so you don't have to do them yourself.
Bring skills to the table to do tasks you can't afford to hire out (like bookkeeping, lawn maintenance, facility maintenance, video editing, etc.).
Lower your stress by taking things off your plate so you can focus on other things.
In short, volunteers can help you grow your nonprofit faster and more affordably. Yay!
But finding and keeping volunteers takes time and effort. So you don't want to lose them faster than you can get them onboarded!
And if they're working hard, we have to thank them with equal enthusiasm. Otherwise, they'll leave or even ghost you.
If thanking volunteers isn't a priority, you'll lose them.
You see, people will only stick around to give their time where they feel needed, wanted, and appreciated.
Best Times to Thank Volunteers
I know you're already busy and you may be thinking "My volunteers know I appreciate them. Why do I need to spend the time to thank them?"
Trust me, you just do.
Maybe you THINK you thank them regularly, but when was the last time you showed your appreciation to your volunteers in a meaningful way?
When was the last time you looked a volunteer in the eye and said "thanks" or jotted down a note expressing your gratitude?
Time can easily slip away and weeks turn into months and what you think was a couple of months ago was 2 years ago.
For the volunteer, it's crappy to work tirelessly and not feel appreciated (been there).
It's okay if that's the case. Because today is a new day and you're about to learn some really easy, really meaningful ways to say "thanks.".
National Volunteer Week
Even if you HAVE been thanking volunteers well, you have a great opportunity coming up to thank your volunteers.
National Volunteer Week runs from April 17 – 23, 2022, and Volunteer Recognition Day is on April 20, 2022. These are both great opportunities for thanking volunteers.
You can celebrate with a card to your volunteers, a volunteer party, snacks in the breakroom, or even a letter to the Editor of your local paper.
Brainstorm with your staff about the best type of recognition for your volunteers. Should you be whimsical or serious? Public or private?
A s'mores kit with a label that says "We could use s'more volunteers like you" may be perfect for volunteers who staff the food pantry.
But for volunteers who answer a crisis hotline, a candle with a note that says "Thank you for being a light in the lives of others" might be more appropriate.
But, now this isn't the ONLY time during the year that you should thank volunteers. The holiday season is also appropriate. You can thank volunteers at certain milestones, such as 50 or 100 hours of service or one year, five years, and 10 years.
Actually, there is never a bad time to thank volunteers.
The best practice in thanking volunteers is the same as thanking donors: just do it all the time, always trying new ways to make sure your volunteers feel appreciated.
What Happens When You Thank Volunteers Well
When you plan ahead and budget resources for volunteer appreciation, you make thanking volunteers a normal part of your operations, ensuring that everyone who gives of their time so the organization can fulfill its mission is recognized.
Other reasons to thank volunteers:
They'll advocate for you. Volunteers who feel valued will talk about your nonprofit in the community as if they're part of the team and speak up about why your cause is important.
They'll bring their friends. Volunteers who are excited about their work will invite friends and family to join them in the fun, magically growing your volunteer base.
They might give money. Engaged volunteers sometimes become donors, especially when they can direct their donation to the area where they serve. If they work on the front lines of your programs, they know exactly what the needs are.
They might make great Board members. Your volunteer base might serve as a source of new Board members. While they're volunteering, you can evaluate their skills and dedication to see if they have what you need on your Board.
It's good for their health. The satisfaction from a good volunteer experience decreases depression and anxiety, and creates a sense of fulfillment. In short, people experience the "Happiness Effect" when they volunteer and feel good about it.
Before we get into ideas for thanking volunteers, let's go deeper into WHY this is so important.
Why Volunteers Show Up 
Volunteers get involved because of the satisfaction—joy, even—they get through helping others.
They spend their Saturday at Adoption Day at a shelter because they love dogs and want them all to find loving homes.
They tutor kids in your after-school program because it makes them feel great when the child they have been working with smiles when they walk through the door. "I was waiting for you!"
They work at the food pantry, because they can see firsthand the difference a box of food can make to a family in crisis.
They tend to the community garden because they love to garden. They want to use their talent to improve their community and bring other people happiness.
It's this opportunity to feel needed and to make a connection that keeps volunteers engaged.
Yet volunteers also feel great when they get recognition from the organization for their valuable contributions.
And that recognition doesn't have to be a big deal or even cost money. For some volunteers, a personal "thank you" from the Executive Director is all they need.
So why don't all nonprofits make volunteer appreciation a priority?
Maybe they're overwhelmed with the tasks of growing a nonprofit. Or maybe they've lost sight of the value volunteers bring to the table.
Either way, by neglecting to thank volunteers for their service, nonprofits risk losing the volunteer to another organization or cause.
And that's a problem.
Replacing a volunteer takes your time and attention away from other things on your plate.
Losing a volunteer can cause a disruption in service delivery or disappoint a program participant.
Thanking volunteers well prevents that and keeps your volunteers happy.
Just Thank Them!
So make it a priority to thank your volunteers!
Even though they get a lot of personal satisfaction in the work that they do, go the extra mile in thanking volunteers in ways that will make them feel truly appreciated.
Tell them thank you every time you can. Learn your volunteers' names. Ask them how they chose your organization and became passionate about education, food insecurity, or whatever area your organization works in.
Get to know your volunteers and build relationships, just like you do with donors. They will feel a stronger connection to the organization, and that connection will keep them involved even when the task that needs doing isn't their favorite.
Oh, and don't forget your Board members! They are also volunteers. You may want to recognize their efforts at a different time and in a different way. But don't neglect to let them know you appreciate their contributions.
Now, ready for some practical ideas?
18 Ideas for Thanking Volunteers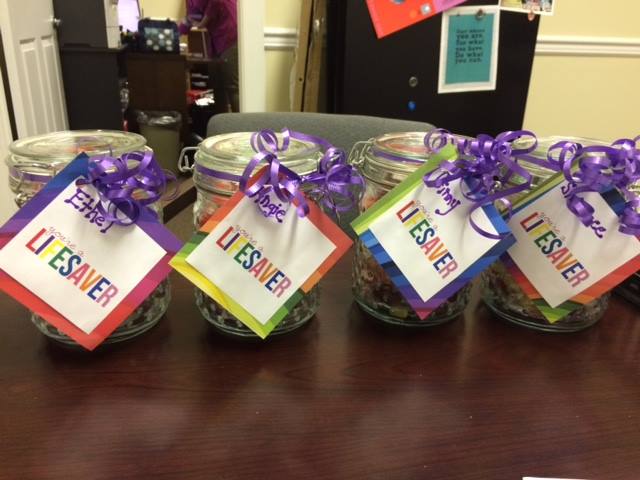 There are SO many ways you can thank volunteers.
Ideally, you should choose something that will be meaningful to the volunteer.
But it also needs to be on brand for your nonprofit, stay within budget (even if that's zero!), and be easy to execute.
You might choose a few different ways to thank your volunteers and sprinkle your gratitude throughout the year.
This will ensure everyone gets thanked, including seasonal volunteers.
And it will demonstrate to volunteers that you see them and their contributions, no matter how busy you are running your nonprofit.
Here's a list of some of my favorite ways to thank volunteers:
1. Handwritten note: Order special notecards for your volunteers, something with more than just your organization's logo, which can feel institutional. Use a photo that reflects the heart of your organization's work.
Personalize each note, letting volunteers know you recognize their specific contributions.
2. Homemade card: With a little creative flair, you can make your own cards. Craft stores are full of stickers, decals, paper punches, and other fun items to create little masterpieces. If your organization works with children, you can recruit children to draw pictures for your cards.
If you work with animals, press a paw on a nontoxic ink pad and then onto the card for a "pawsitively" perfect signature! I saw a beautiful hand-made card recently with a wonderful quotation about volunteerism: "Everybody can be great, because everybody can serve," Martin Luther King, Jr.
Get creative, and see what you can come up with!
3. Staff- and Board-signed card: Make oversized cards yourself or buy large-ish cards at the drug store and have everyone sign a card for each volunteer. Set up an assembly line and have a signing event. Encourage everyone to personalize their messages and mention specific things the volunteer did that made an impression.
4. Thank-you video: Shoot a short video thanking your volunteers. Don't make anything long or fancy. Just use your phone. Upload the video to YouTube and send your volunteers the link.
You can really pack a punch with this strategy by sending each volunteer a personalized video. This might take some time, but it will pay off! Spending time thanking volunteers individually makes them feel extra special. Tools like Gratavid can make this easier.
There's a whole playlist on our YouTube channel of sample videos waiting to spark your creativity.
5. Framed photo: Take photos of your volunteers in action with a goal of getting a frame-worthy shot. When you get the perfect shot, have a print made of the photo and display it in a simple frame.
You can get crafty and paint a wooden frame. Inscribe the date and a personal message on the back then give it to your volunteer.
6. Board member thank-you call: Ask your Board members to call volunteers and thank them. You have probably asked them to call donors. This is the same idea. Give Board members a list of volunteers to call and a little information about each one.
A simple script might sound like this: "Hey, I heard from our Executive Director that our program would not be successful were it not for you, and I wanted to say thank you."
7. Facebook shoutout: Do not underestimate the power of a Facebook shoutout when it catches a volunteer by surprise while they idly scroll social media. Incorporate a photo of volunteers in action into a graphic and tag them.
Let the world know that your organization would not be able to fulfill its mission without your dedicated volunteers. Thank your volunteers on Instagram, Twitter, and LinkedIn, if your volunteers are active on those platforms.
8. Yard sign: Create a yard sign that says: "A big-hearted volunteer for XYZ organization lives here!" Stake the signs in the yards of volunteers under the cover of darkness for an early-morning surprise.
Keep privacy concerns in mind when thinking through this strategy. Yard signs are so much fun and very effective at driving the point home. But you need to know your volunteers well enough to know if they would appreciate a yard sign or if they might feel too exposed.
Also, pick up the yard sign after a couple of weeks, so your volunteers aren't burdened with recycling their sign.
9. Branded gift, such as a sticker, magnet, or journal: Surf around your favorite sites for small, branded gifts. What would your volunteers like? Maybe a small, branded pouch with earbuds or some other type of tech accessory? Or a water bottle? Or an outdoors kit with mosquito repellant, sunscreen, and lip balm? Or maybe just a sticker for their car?
Make sure you are choosing something your volunteers would like to receive and find useful, and not something that will be regarded as junk and go straight to the landfill.
10. Gift card: A $5 or $10 gift card can be surprisingly meaningful. It's enough to buy a little treat, and little treats make the day special. If you know your volunteers well, give them a gift card to a local donut shop, ice cream store, or coffee shop. Choose a place with good reviews and neighborhood buzz.
If you don't know your volunteers well enough to choose a locally-owned store, go with Starbucks or a similar chain. Starbucks has a wide selection and stores everywhere. A quick run through the Starbucks drive-thru can really make a busy person's day!
11. T-shirt: You might be surprised at the enthusiastic response you get when you send or give your volunteers a t-shirt! Getting a t-shirt unexpectedly is a fun surprise. Consider having a t-shirt made that says "Volunteer" or that otherwise stands out from your standard shirt.
To get the size correct while maintaining an element of surprise, ask for t-shirt size as an optional question on your volunteer application form.
12. Special treat: Hire a local baker to make packaged, branded treats to hand out at your next volunteer activity. If you have bakers on your staff and Board, enlist them to bake something special. Set out an assortment of homemade baked goods at your next volunteer gathering.
A small, branded bag of candy, such as chocolate-covered sunflower seeds, can also be a sweet surprise.
13. Fresh bouquet or low-maintenance plant: Could your Board deliver bouquets of flowers to volunteers? Or a poinsettia plant around the holidays?
Include a personalized note thanking the volunteer for their unique contribution. Tell them how "blooming amazing" they are!
14. Volunteer appreciation event: Consider an in-person appreciation event such as an ice-cream social, dessert reception, luncheon, or breakfast. Keep the event's focus on volunteers and the many ways they make the organization's work possible.
There are endless possibilities, and business sponsors will help you cover the cost. The goal is to make volunteers feel valued.
15. Dinner delivery: This is an idea that caught on during the pandemic. Nonprofit Boards delivered tamales, boxed dinners, lasagnas, and all manner of food to volunteers.
Volunteers would welcome a soup delivery during a cold snap or a barbecue dinner in the summertime. Give a volunteer the night off from making dinner, and you just may have a volunteer for life!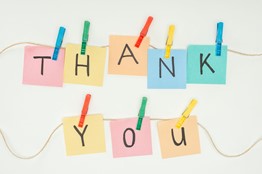 16. Thank-you banner: Express your gratitude publicly with a thank-you banner prominently placed outside your facility or in a public place in town where everyone will see it. Contact City Hall to see if banners are permitted and what the process is. In small towns, city workers will usually install the sign.
Post photos of the banner on your social media platforms for maximum exposure.
17. Blog post: If your nonprofit has a blog, write a thank-you post to your volunteers and include some photos of them in action. Share the blog post on social media, tagging as many volunteers as you can.
You might even be able to re-cast the blog post as an op-ed for a community newspaper or local digital publication.
18. Snack bar: Put out a nice spread for your volunteers at your next event. Doughnuts and bagels can be a nice mid-morning treat, along with a fruit tray for health-conscious volunteers. An over-the-top candy bar is a fun afternoon surprise. At the peak of summer, a sundae buffet will be a huge hit.
The Bottom Line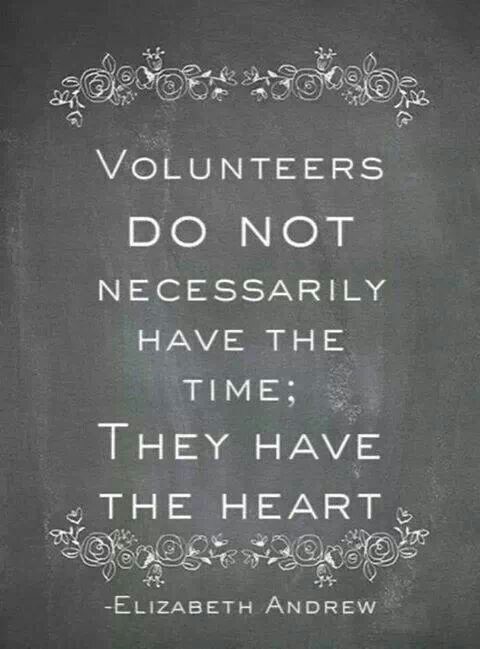 Volunteers love the satisfaction they get from helping others. They get to feel good in exchange for giving their time. It's your job to help them feel great by thanking them regularly, especially during National Volunteer Week.
Thanking volunteers is so important, you don't want to do it halfway. It's something you need to put thought, time, and a little bit of money into. Make thanking volunteers a priority, and your volunteers will keep coming back to help, plus they'll tell others about their positive experience.
This positivity will benefit your organization time and time again as you expand services, grow your organization, attract new donors and volunteers, and work together to change lives.