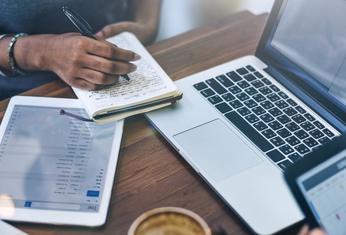 Since the start of the pandemic, and even before that, nonprofits have turned to virtual fundraising to boost revenue and engage supporters in their mission. Like other nonprofits, your organization likely conducts regular fundraising efforts to support new programs and projects and ultimately help more people. As a nonprofit fundraising specialist or marketing manager, you know that none of these campaigns can succeed without a comprehensive marketing strategy in place to get the word out. 
Your digital marketing goal is to convert website visitors, social media followers, and other audience members into donors and long-term supporters of your mission. However, after months of relying on virtual interactions due to social-distancing restrictions, you may feel as though your marketing approach has gone a little stale. Perhaps you've even noticed your engagement metrics decrease across your platforms due to supporters' screen fatigue. 
If that's the case, it's time to take a fresh look at your marketing strategy, get creative, and find areas for improvement. These tips will help you get started: 
Take a multichannel approach.

Position your giving page to encourage further engagement.

Demonstrate the impact of supporter efforts.

Get creative and explore new trends.
Here at Donately, we understand the difference that effective virtual fundraising campaigns make in boosting your organization's revenue. We help equip nonprofits with the tools they need to pursue better online fundraising efforts, such as well-designed digital donation forms and a text-to-donate platform. We've seen how nonprofits have implemented these strategies to drive long-lasting fundraising success and are confident that they can work for your nonprofit, too. Let's get started!
1. Take a multichannel approach.
Most of us probably don't spend all day using just one communication platform, such as only Facebook or only email. We hop between multiple apps and websites on our phones, tablets, or computers to check notifications and get updates.
Similarly, nonprofit supporters aren't engaging with their favorite organizations through just one channel. They're using multiple platforms — social media, email, websites, and more — to receive information on how to donate and get involved in your nonprofit's activities.
Therefore, it's important to take a multichannel marketing approach to reach supporters where they are and engage with them effectively, no matter the platform. Here are a few productive ways to connect with supporters through digital outlets:
Email newsletters
Your email newsletter campaigns are an effective way to send updates, direct supporters to your online giving page or other donation outlets, and ultimately raise awareness for your organization. In fact, according to 360MatchPro's fundraising statistics page, email has the highest ROI of any marketing channel. Also, 33% of donors say email is the channel that most inspires them to give.
To take full advantage of the opportunity, be sure to send updates regularly and design all communications with your organization's logo and colors to enhance brand recognition.
Text messaging
Advancements in mobile technology have opened up exciting new fundraising opportunities for nonprofits, including text-to-donate. Mobile giving empowers your supporters to give from wherever they are. Here's a breakdown of how text-to-donate works: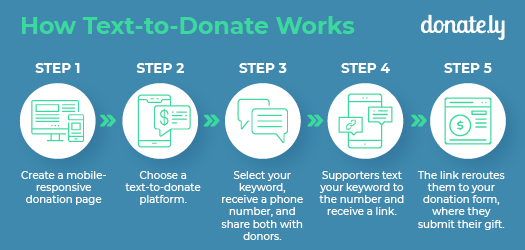 In this type of campaign, your nonprofit sets up a mobile-responsive donation page, chooses a keyword, and receives a phone number. When supporters text the keyword to your mobile-giving number, they'll be sent a link to your online donation form, allowing them to give right from their phones.
Since 81% of Americans own a smartphone, a text-to-give campaign is a convenient, efficient way to engage supporters on a device they use all the time.
Google Ads
Search engines also offer fundraising opportunities for nonprofits, like Google Ads. These are the sponsored links that pop up at the top of the results page whenever a user conducts a Google search. Google Ads help drive traffic to your nonprofit's website, where supporters can find information on your cause and your donation page.
Plus, registered 501(c)(3) organizations are eligible for Google Ad Grants that provide nonprofits with $10,000 each month to use to bid on advertising space. With this marketing channel, you'll be able to generate more website visitors and introduce your mission to a wider audience, hopefully inspiring more donations in the process.
These are only a handful of marketing channels that your nonprofit can use to educate people on your cause and drive more fundraising revenue. Be sure to look into all your options to broaden your reach and strengthen your digital presence.
By pursuing a few marketing outlets in tandem, you can effectively increase the number of touchpoints your organization has with your target audience. For instance, if a supporter only sees your message on Facebook, they might quickly forget about it and move onto the next post. But if they see your message on Facebook, in their email inbox, and in a Google Ad, they might be more interested in what you have to offer and start to engage with your messages.
The more you can diversify your digital marketing efforts, the more new supporters you'll be able to bring on board with your cause.
2. Position your giving page to encourage further engagement.
Your nonprofit's website is one of the most critical components of your online marketing strategy because it offers a hub for all the information that supporters need. On your website, it's critical to have an easily-accessible, streamlined donation page to solicit donor gifts.
Donately's donation page guide explains that your online giving form serves as the foundation of your virtual fundraising efforts because it drives revenue and allows donors to give whenever is most convenient for them. By embedding your donation form into your website, you can convert site visitors to donors in just a few easy steps.
To make the most of this fundraising avenue, be sure to use your donation page to encourage further engagement with your organization beyond one-time donations. For example, you can offer donors:
Recurring gift opportunities: Give your supporters a clear and convenient way to turn their one-time gifts into recurring contributions. Include an option on your giving form that enables donors to transform their gift into a monthly, quarterly, or annual donation. This is highly convenient for donors because they input their payment information just once and are automatically billed for their ongoing gifts.
Social sharing links: After donors contribute, provide the opportunity for them to share their gifts on social media. You'll be able to broaden your audience when supporters share their donations with their family and friends, perhaps inspiring them to give, too. Be sure to allow supporters to share across multiple social media platforms such as Twitter, Facebook, LinkedIn, and Instagram to contribute to your diversified marketing efforts. Here's an example of how simple social sharing can be with the right technology:
Additional ways to get involved: If someone feels strongly enough about your cause that they take the time to donate, they probably want to stay updated on your activities and get involved in different ways, too. Use your donation form to highlight other opportunities, such as volunteering, upcoming events, peer-to-peer fundraising opportunities, and anything else you have going on. Be sure to include these options as a checklist at the end of your form or on the confirmation page so donors don't get distracted while making their gifts.
These ongoing engagement efforts are a perfect jumping-off point for your donor retention strategy. By focusing marketing materials on engaging recurring donors, you can boost your online fundraising and save your organization time and money. After all, it's much more cost-effective to engage repeat donors who are already on board with your cause, rather than spending tons of time and money to constantly solicit new donors.
3. Demonstrate the impact of supporter efforts.
The quickest way to lose donors is by neglecting to follow up with them or provide updates on your projects. After donors contribute to your cause, they want to hear about the results of your fundraising campaigns and how their donations helped you complete your goals.
Therefore, you should use donor-centric messaging in your marketing campaigns. This resource about nonprofit fundraising strategies defines a donor-centric approach as one that reframes communications to convey the impact of their contributions and highlight how their help enables your organization to assist more people.
In your virtual communications, position donors as the protagonists of the story whose generous assistance leads to positive change. Include specific examples and statistics that illustrate the success of your fundraising campaigns.
For instance, if you conducted a campaign to raise money to purchase blankets, toiletries, and other necessities for people experiencing homelessness, share the monetary amount raised, how many resources you were able to purchase, and the number of people your organization helped as a result. These specific stories and examples make your organization's work more real to supporters and encourage them to continue giving because they know their gifts actually make a difference.
Be sure to share these impact stories in your:
Email newsletters: Send a recap email after your campaign ends to share your successes and thank donors for their support.
Social media pages: Share Facebook, Twitter, and Instagram updates using both the post and the story feature on each platform, so supporters stay in-the-loop and can share your posts to their feeds.
Website: Post a thank-you message on your website homepage or blog highlighting the features of your recent campaign and providing updates on what's next for your organization.
Use these strategies to retain donors' attention after campaigns have concluded. Also, keep in mind that remarketing, or sending targeted messages to those who have already been in contact with your organization, can increase traffic to your donation form and improve your donor retention rates. Create donor segments for each fundraising campaign to identify and quickly send updates to each group.
4. Get creative and explore new trends.
As a fundraising or digital marketing professional, one of the most exciting aspects of your job is that you get to be on the cutting edge of new technologies that make marketing efforts more creative and unique.
Don't be afraid to try something new and mix up your online strategy because you'll show supporters something they haven't seen before, sparking their interest and inspiring them to stay engaged. Even if something's not working for your organization, you can switch up your approach and know that you gave it your best shot.
For example, here are a few trends in the nonprofit marketing space you might consider trying out within your organization:
Video
With the widespread popularity of social media sites like YouTube, Facebook, Instagram, and TikTok, video is hugely popular for online marketing.
Nonprofit fundraising videos don't just introduce your cause to your virtual audience — according to this blog post, they "bring your organization's work to life in a way that written stories just can't."
Video storytelling allows you to use a combination of visuals, music, and narration to:
Tell your story.
Demonstrate authenticity.
Capture your audience's attention more effectively.
Even if you don't have access to professional video equipment such as a dedicated video camera, microphones, and lighting, you can make a compelling video using just your smartphone.
But, if you have room in your budget, consider enlisting the help of a production company to make a high-quality video on any topic of your choosing. You can:
Explain an aspect of your work.
Provide your audience with a virtual tour of your facilities.
Showcase testimonials from people you've helped.
Be sure to share your videos widely on all digital platforms to get them out in the world and inspire more people to engage with your message.
Website blog
Along with typical website information such as your nonprofit's story, contact information, volunteer opportunities, and donation page, consider adding a blog to your nonprofit website.
A website blog offers:
Space to provide more detailed updates on current programs and projects, giving your supporters a reason to return to your site again and again.
An opportunity to implement search engine optimization (SEO) tactics to push your website links to better positions on search results pages.
A way to reassure supporters that your nonprofit is active and working hard to meet the needs of your community.
Along with general updates, plenty of nonprofits use their blogs to demonstrate their authority in their respective fields. For example, if your nonprofit specializes in animal advocacy and welfare, you can create posts that explain different animal rights topics or animal welfare legislation issues.
Also, your blog posts don't have to be just words. To take your posts to the next level, use a combination of:
Writing
Images
Infographics
Videos
Links to other pages on your site and other authoritative sources
This will enhance the reader experience and decrease your bounce rate (the percentage of users who click on your content and click away rather than exploring other pages on your website).
You can also share your blog posts across your marketing platforms and make them shareable, so readers can post them on their own pages or send them on messaging platforms.
Additional trends
In addition to these tendencies, there are plenty of other digital marketing trends to keep an eye on, including:
Gamification tools that incentivize fundraising and other forms of participation by offering badges or points for volunteering and donating that can be exchanged for prizes.
Virtual events like conferences, webinars, and networking events are more popular now because of social distancing, but they're likely here to stay even after the pandemic ends.
Generational changes such as the rise of Generation Z mean that social media platforms are more popular (and important for your organization to use) than ever before.
As you craft your revitalized digital marketing strategy, be sure to keep all these trends in mind and decide the right way to use them to your organization's advantage. Every nonprofit has its own fundraising and engagement goals, so figure out what will work best for your team to use without adding too much to your (probably already full) plate.
The Bottom Line
Overall, there are plenty of ways to give your nonprofit's digital marketing strategy a boost and involve more supporters in your mission. Be sure to diversify your engagement channels, follow up with supporters, provide multiple ways to get involved, and embrace online marketing trends for a well-rounded strategy. Good luck!
About the Author
Andrew is the head of marketing and customer success for Donately. After getting involved with nonprofits at a young age, he discovered a passion for helping the organizations that are making the world a better place. Knowing how vital online fundraising has become, his goal is to help nonprofits raise more money online each year! In his spare time, you will find him cooking up dinner, playing with his dog or cheering on Boston sports teams.