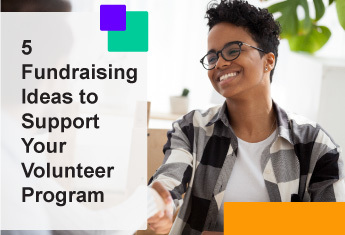 A good volunteer program often requires fundraising campaigns to stay in operation. Depending on your organization's activities, you may need fundraising to help fund your:
Volunteer training

opportunities.

Equipment and supply purchases.

Marketing materials.

Volunteer thank-you gifts
From setting goals to updating your current fundraising processes, planning a successful fundraising campaign takes time and careful consideration. If you're a volunteer coordinator looking for some effective and easy fundraising ideas to support your volunteer program, you've come to the right place!
In this guide, we'll explore five ideas to help you raise more for your volunteer program: 
Raise awareness of volunteer grants.

Create an online donation page. 

Launch a crowdfunding campaign.

Reach out to corporate partners.

Start a merchandise fundraising campaign.

With a strategic and well-thought-out plan, you can increase the effectiveness of your organization's fundraising initiatives, making your volunteer program more resilient over time. Let's take a closer look at each fundraising idea!
1. Raise awareness of volunteer grants.
A volunteer grant program is a corporate philanthropy initiative that encourages volunteerism in communities where employees reside and work. Crowd101 defines volunteer grants as monetary donations that companies make to eligible nonprofits where their employees regularly volunteer. 
40% of Fortune 500 companies offer volunteer grant programs. Your organization can take advantage of this initiative by motivating your current volunteers to look into volunteer grants. 
Launch a promotional campaign to raise awareness of volunteer grants and encourage volunteers to research their eligibility. First, start off by letting your volunteers know about volunteer grants. Many volunteers don't know that they can make a significant impact by submitting volunteer grant requests. 
Also, ensure every member of your organization has a clear understanding of what volunteer grants are and how beneficial they are so that they can communicate about them effectively. 
Then, reach out to current and prospective corporate partners. Many companies are looking to engage their employees in corporate social responsibility. Your nonprofit can help them achieve this goal by promoting the benefits of starting a volunteer grant program. 
Every time you receive a volunteer grant, remember to say thank you with handwritten cards, social media posts, or public press releases. When you thank your volunteers, they are more likely to continue donating their time to your organization, resulting in an increase of volunteer grants in the future.
2. Create an online donation page.
Setting up an online donation page is one of the most crucial steps in any fundraising journey. Your fundraising landing page is where your donors will go to contribute to your mission. Therefore, it's important to design this page effectively. 
Creating an online donation page is the perfect chance to build a strong connection and relationship with your donors, motivating them to give. Your donors believe in your cause and want to help your nonprofit reach its goals, so it's important to make your fundraising page less transactional and more inspirational.
Avoid making the process too long and confusing. Instead, a quick and simple process will offer a seamless experience for your donors. Let's take a closer look at what your online donation page should include:
A compelling reason to donate

– When your supporters have reached your fundraising page and are considering donating, the next step is to encourage them and give them confirmation that they're in the right place to help you make a difference. Include a strong statement about why their donation is important and how it will impact the lives of others. In the end, that's what your donors are looking for — to see that their donations are going to make an impact!

Suggested giving amounts

– Provide suggested giving amounts so that your supporters have an idea of the type of donations you're looking for. This can help make the giving process much smoother since donors won't have to stress about choosing an appropriate donation amount.

An automated thank-you message after donations are submitted

– Shortly after your supporters donate, send them an automated thank-you message. This is vital in offering a good experience as it makes your donors feel special and can make your organization stand out. You can get creative with how you want your message to look. Add a few high-quality images, incorporate your nonprofit's colors, and include a large, bold "thank you" message with a description of how their donation will contribute to a good cause. Keep in mind that this automated thank-you message is just the first step in a larger journey of ongoing supporter stewardship.
A well-designed donation page is critical in making your donors feel like they're making the right choice in donating to your organization. Ensure the process is smooth, quick, and easy to provide donors with an amazing experience and encourage them to give again in the future.
3. Launch a crowdfunding campaign
A crowdfunding campaign involves gathering a large number of smaller donations from a broad audience.
A successful crowdfunding campaign introduces your organization to a wider audience while effectively raising funds for your mission.
Let's explore some of the steps of launching a powerful crowdfunding campaign:
Create an effective campaign donation page. Your donation page should strike interest and emotion in your donors. Include a compelling reason to give and captivating imagery. A well-set-up crowdfunding page with an easy application process will make it easy for your donors whenever the mood strikes.
Create a social media posting schedule to remind supporters to give.

If you're looking to maintain strong communication with your supporters, social media is a great place to interact and express your appreciation for every donation.  Share your crowdfunding page across all of your social media pages, including Instagram, Facebook, Twitter, and LinkedIn.

Share frequent campaign updates.

Keep your supporters in the loop by sharing frequent updates about your fundraiser. For example, you can use a fundraising thermometer to showcase your progress and how much you need to raise to reach your goal.

Fulfill your promise.

You can say you have truly completed a successful crowdfunding campaign when you have fulfilled all your promises. This involves reaching your goals, delivering thank-you messages, and ensuring that you've communicated all necessary information with your supporters. When you show that you've fulfilled your promises, it shows your donors that you care and they will be more inclined to trust you and support future campaigns.
Crowdfunding campaigns require a lot of work, but with the right planning and structure in place, there's no doubt you'll be successful in reaching your goals.
4. Reach out to corporate partners.
A corporate partnership is a mutually-beneficial relationship between a nonprofit and a for-profit organization. The two organizations are typically aligned in their values and have a common goal. 
Corporate sponsors can be an effective source of support for your organization, especially if you already have established relationships with local businesses. For instance, you may have partnered with businesses in the past to host corporate volunteer events. 
When reaching out to potential sponsors, be sure to promote the benefits that your corporate partners will receive. This includes a boost to their reputation as a philanthropically-minded organization. 
In addition, use these strategies to reach out to corporate partners:
1. Communicate your goals – In order to develop long-lasting relationships with your partners, it's crucial to make them believe in your cause and mission. Corporate volunteers and donors are more likely to support your organization if they feel like their contributions are truly making a difference. Let your corporate partners know what your organization's fundraising goals are and how they can become integral partners in achieving these ambitions.
2. Use volunteer management software – Investing in an efficient VMS will enable your organization to connect with a large group of people, all at once. You can keep track of your interactions with corporate sponsors and use email marketing tools to reach out to partners. Plus, you can use your software system to identify volunteers who hold higher-up positions in major corporations. You can connect with these individuals to see if they would be interested in setting up a corporate partnership.
3. Be active on social media – As mentioned earlier, social media platforms are the perfect place to engage with supporters in a meaningful way. You can post shout-outs as a form of appreciation for your most active corporate partners and thank them for their support.
Make sure you show your gratitude to your corporate partners. Send them appreciation gifts such as free merchandise or handwritten thank you notes from community members or your organization's staff. This can help you cultivate long-lasting relationships with valuable corporate partners.
5. Start a merchandise fundraising campaign.
Your nonprofit can easily create an online fundraising campaign by selling merchandise designed specifically for your organization. You can choose a variety of different merchandise options such as t-shirts, sweatshirts, hats, masks, water bottles, and many more, and customize them according to your brand!
Merchandise sales are an excellent fundraising option because they allow you to spread awareness of your mission while raising money. When supporters wear or use your merchandise in public, they help increase your brand recognition. 
Merchandise can also be used to motivate supporters. Offer free merchandise as an incentive for supporters to share your social media posts or contribute to your crowdfunding campaigns.   
Make sure to promote your merchandise on your social media and email platforms to reach a larger audience!
Now that you've learned five different fundraising ideas to support your volunteer program, it's time to start thinking about launching your own fundraising initiatives! Keep in mind that this is just a brief overview of potential fundraising ideas. Check out Double the Donation's fundraising ideas list with over 215 additional ideas to help you raise more!
Fundraising is one of the most important aspects of keeping volunteer programs up and running. Successful fundraising efforts will help your nonprofit achieve its charitable goals and make your organization more sustainable.
Plus, fundraising campaigns not only benefit your organization by bringing in donations, but they also help you raise awareness of your mission and cause, attracting new volunteers! Good luck!
About the Author
Shreya is a creative content creator focusing on delivering information about the importance of volunteerism for nonprofit organizations. She is passionate about creating engaging content, writing, and graphic design to help viewers easily retain information. You can find her work at www.initlive.com or on Linkedin and Twitter.