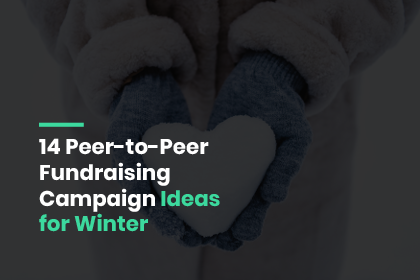 Winter is the time to celebrate holidays with family and friends, watch the snow fall, and try to stay warm with a variety of hot beverages and fluffy socks. As a nonprofit fundraising professional, you have the power to turn the winter season into an opportunity to engage your supporters with a peer-to-peer fundraiser! You need fundraising campaign ideas.
Peer-to-peer (P2P) fundraising empowers supporters to fundraise on behalf of your organization by gathering donations from their personal networks. There are plenty of winter-themed events and activities that lend themselves to becoming effective peer-to-peer fundraising opportunities. Plus, P2P fundraising is a great way to keep supporters engaged during the long winter months. 
In this guide, we'll review 14 creative, inspirational ideas to help you decide what your next winter-themed fundraising campaign will be.
These peer-to-peer fundraising ideas require participants to make personal fundraising pages to share with family and friends based on your campaign's main fundraising page. Take a look at Donately's peer-to-peer fundraising guide for tips on how to design an effective fundraising page and how to train your participants on P2P fundraising best practices. 
Once you've got a strong understanding of how the P2P process works, explore these ideas to create an engaging, productive fundraising campaign.
1. Holiday Baking Competition
Invite local bakers to participate in a holiday baking contest. Reach out to local restaurants, cupcake shops, and other bakeries to invite prominent bakers to participate. 
You can make the baking competition specific by requiring bakers to create just one type of holiday dessert, such as cookies, pies, or cupcakes. Or, you can simply instruct participants to make their signature holiday dessert. 
To turn this competition into a fundraising opportunity, require participants to raise a certain amount of money from their family members and friends as an entry fee. You can also require competition attendees to purchase a ticket to taste and vote on their favorite dessert.
2. Christmas Decoration Challenge
Decorating for the holidays is one of the most popular winter activities in every community. Everyone has at least one neighbor who takes the task extremely seriously, turning their home into a winter wonderland that's probably visible from space. 
If your community has several passionate Christmas decorators, invite them to participate in a Christmas Decoration Challenge. Here's how you can add a P2P fundraising element to the competition:
Ask participants to submit photos of their decked-out homes. 

Create a page on your website showcasing the top homes. 

Allow audience members to "vote" on their favorites by submitting a donation with the name of their top house attached to their contribution.

Share the page on your social media pages and email newsletters and encourage competitors to share the page among their networks to

spread your online fundraising efforts

to a wider audience.
This is an effective way to raise funds for your cause because there's nothing more motivational than friendly competition among neighbors. Be sure to offer a prize for the winning home-owner, whether it's a small trophy or a gift card to a local restaurant.
3. Festive 5K/Fun Run
Break out the ugly Christmas sweaters, Santa hats, and reindeer antlers and invite supporters to participate in a festive 5K and Fun Run. Encourage racers to create personal fundraising pages and set a fundraising goal ahead of time. Participants will share their fundraising pages until the race sets off, with all donations benefiting your nonprofit. 
Host a post-race party to thank your fundraisers and congratulate them on a race well run.
4. Soup Cook-Off
On a chilly winter night, there's nothing better than a warm bowl of soup! Invite local soup connoisseurs to participate in a soup or chili cook-off. 
This event works similarly to a holiday baking competition. Encourage participants to raise money among their personal networks before the competition. You can also charge cook-off attendees a fee to enter your event, try each soup, and vote on their favorites.
5. Polar Plunge
A polar plunge is a thrilling peer-to-peer fundraising idea where participants jump into a freezing body of water on behalf of a good cause. Whether it's your local lake or community pool, nothing beats the adrenaline rush of diving into the water in the dead of winter.
Ask participants to raise a certain amount of funding to earn entrance to your polar plunge event. Also, ensure supporters are aware of the risks involved in this fundraising event by requiring them to sign an event waiver. 
On event day, thank participants with plenty of warm blankets and hot chocolate for when they emerge from the chilly depths.
6. Festive Pub Crawl
A pub crawl is a great way to introduce community members to local bars, breweries, and restaurants while raising awareness and funding for your mission. 
Reach out to local business partners to ask if they'd be interested in participating in your holiday pub crawl. Ask if the businesses are willing to offer discounts or specials to crawl participants. Be sure to highlight the benefits these businesses will receive from participating, such as publicity and a high level of foot traffic during the slower winter months. 
To add a P2P fundraising element to your crawl, encourage supporters to raise or contribute a certain amount of funding to gain access to your event and the special deals that come with it.
7. Winter Gala
A party is just the thing you need to engage supporters during the long winter months. Invite your supporters to a winter gala to thank them for their support and celebrate their accomplishments. 
Use your gala to recognize and thank top peer-to-peer fundraisers and donors for their hard work during previous campaigns. You can even host a simultaneous virtual event to engage supporters who may live further away or prefer engaging with you online. 
Offer plenty of food and drinks as well as fun activities such as a photo booth or ornament decorating stations. Be sure to thank top fundraisers by name and offer a parting gift, such as a goodie bag, certificate, or free t-shirt.
8. Holiday Scavenger Hunt
Send supporters on a tour of your community by hosting a holiday-themed scavenger hunt. If your community has a small main street or downtown area, you already have the perfect setting for this event. 
Place clues and holiday-themed objects around the area for participants to discover. The clues can be holiday-themed trivia or riddles. Make sure to have a special prize for the group that completes the scavenger hunt first. 
Engage supporters in fundraising by requiring them to raise a specific donation amount to participate.
9. Wishlist Drive
Winter includes plenty of gift-giving holidays, including Christmas and Hanukkah. Since your nonprofit's supporters are already feeling the holiday spirit, why not present them with your wishlist? 
In a wishlist drive, your supporters will donate supplies and equipment to your organization rather than monetary donations. Simply create a wishlist using an eCommerce website like Amazon that includes all of the supplies your organization needs. For instance, if you're an animal shelter, your wishlist might include items such as dog and cat food, leashes, dog beds, and collars. 
Then, encourage your supporters to donate to the list and share it with their networks. Reward your top sharers with a special thank-you message or prize.
10. Matching Gift Drive
After spending lots of money purchasing Christmas gifts and other holiday presents, your supporters may feel less inclined to contribute a large gift to your cause during the subsequent winter months. A matching gift drive is an effective way to raise money without having to ask supporters to reach into their own pockets again. Instead, they can earn extra funding for your cause through their employers. 
In corporate matching gift programs, businesses match donations that their employees make to eligible nonprofits. These programs can double the impact of each supporter's donation. However, according to Double the Donation's corporate matching gift guide, 78% of match-eligible donors have no idea whether their company even offers a matching gift program in the first place. 
With a matching gift drive, you can deploy peer-to-peer advocates to spread the word about matching gifts and encourage their family members and friends to research their eligibility. Your supporters can encourage their loved ones to contribute their matched donations to your organization, creating an effective additional fundraising stream to carry you through the winter.
11. Giving Day
You're undoubtedly familiar with Giving Tuesday, the most well-known giving day of the year. However, your organization isn't restricted to just one giving day a year. 
You can host a giving day of your own during the winter months to engage participants using your online platforms and invoke a sense of urgency surrounding your fundraising efforts. By giving supporters a 24-hour deadline to contribute, you can inspire them to give ASAP. 
Ask your top peer-to-peer fundraising participants to support your fundraising campaign by spreading the word on digital platforms like email and social media.
12. Auction
An auction is an effective indoor event that supporters won't mind attending during the colder months. Reach out to local businesses and individual donors to ask them to contribute valuable auction items and experiences. These may include things like sports game tickets, gift baskets, or all-inclusive vacation packages. 
You can add an auction to your winter gala to encourage fundraising throughout the celebratory event. Invite your most successful peer-to-peer fundraisers to participate in the bidding process.
13. Christmas Market
Finding gifts for everyone from your child's third-grade teacher to your great-grandmother can be a challenge. By hosting a holiday market, you can make holiday shopping a little easier for your supporters this year!
Invite local businesses and artisans to host booths and sell their goods at your Christmas market. Then, ask supporters to contribute an entry fee to enter the market.
14. New Year's Resolution Challenge
Sometimes people need a little extra motivation to follow through with their New Year's resolution. You can give your nonprofit's supporters a boost by creating a New Year's resolution fundraising challenge.
Ask supporters to set a goal for the month of January, such as jogging four times a week, reading one book per week, or doing one random act of kindness per day. Then, supporters will gather donation pledges from their family members and friends. Donors will contribute the pledged donation amounts after participants successfully stick to their New Year's resolution for the full month. 
You can help supporters develop a new habit while they fundraise to support your mission.
If you're looking for a few creative, engaging fundraising ideas for this winter, peer-to-peer fundraising should be your next move. These P2P campaign ideas empower your supporters to become more involved in your nonprofit's mission while engaging the wider community in your fundraising efforts. 
Remember to provide your peer-to-peer participants with ongoing encouragement throughout the campaign as well as a massive thank-you once the fundraiser concludes. Happy fundraising (and don't forget to bundle up!).
About the Author
Jacob Spencer, Customer Success / Account Manager, strives to make every step of our customer journey as enjoyable as possible. My goal is to turn everyone that trusts Donately into a raving fan! Raising funds can be daunting, but we know that with the right tools, it can and should be easy.