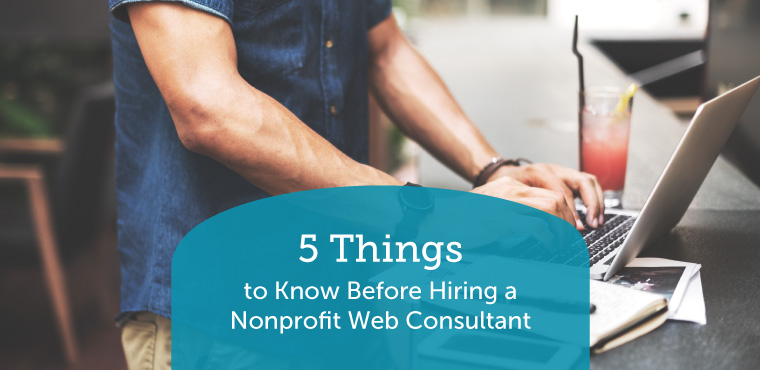 For many donors, your nonprofit's website provides their first impression of your organization and subsequently influences how they'll interact with your organization going forward. Marketing savvy nonprofits are well aware of this and make the effort to invest in their websites. However, you don't need to be an expert on website design or marketing to create a valuable website, because you can call in someone who is! 
Nonprofit consultants specialize in a number of different aspects of nonprofit management from fundraising and accounting to web design. The right consultant can bring your organization new insights, leaping your nonprofit forward in terms of progress.
Despite the many benefits of hiring a nonprofit consultant, there are still many myths about what a nonprofit consultant does or how you should go about hiring one. If you find yourself unsure what is myth and what is fact about hiring nonprofit consultants, don't worry. This article will walk through five key things to know before you hire your first nonprofit web consultant:
What a consultant does

What you need a consultant for 

How to research consultants 

How to approach consultants 

How to establish a working relationship with a consultant
This foundational knowledge may at times feel simple, but it's best to make sure you have a rock solid understanding of nonprofit consulting practices before entering into conversations with potential partners. This preparation will ensure that everyone is on the same page throughout the consulting process, saving you and your consultant time that can be better spent on improving your website. 
1. What a consultant does
Those new to nonprofit consulting sometimes assume that consultants start an engagement by pinpointing problems, rather than the nonprofit presenting specific areas in need of improvement to the consultant.
Sometimes consultants might be able to identify other aspects of your nonprofit that could stand to be improved as they work on their main priority, but for the most part, nonprofit consultants provide advice and actionable recommendations for the problems your nonprofit asks them to solve.
This means your organization should discuss exactly what you need a consultant's help with before bringing them on.
Additionally, make sure you look for consultants who fit your needs. After all, if you're seeking technical help for your website and online fundraising, you wouldn't hire a capital campaign strategy consultant. To get a sense of the kinds of services nonprofit consultants offer, here is a breakdown of a few common consulting services:
Web design consultants. Website design consultants tend to be more hands-on than other consulting services, and some consultants will create your nonprofit's website for you. Make sure to invest in a web design consultant who will work with your nonprofit to build a website that not only reflects your organization but is also something that your team can continue to update and maintain on your own.
Fundraising consultants. Fundraising consultants offer advice on how to improve your marketing campaigns, event management, and overall fundraising plan.
Internal management consultants. Internal management consultants help nonprofits develop their organizational structure. They can provide training on how to manage teams, improve leadership, and create a more productive work environment.
Accounting and compliance consultants. Accounting and bookkeeping consultants are experts in finances and accounting. These consultants can analyze your nonprofit's finances to provide insight on how to allocate and budget your funds. Compliance consultants can also help you navigate the tricky nonprofit registration landscape.
Capital campaign consultants. Capital campaigns are major undertakings and require specific advice. These consultants will help your nonprofit conduct a feasibility study, analyze the results, and provide suggestions for your subsequent campaign based on the results of the study.
For your website design consultant, make sure to research each candidate's services and business model. Try looking for examples of previous clients or web design showcases, so you can get a sense of what kind of work your consultant will produce.
2. What you need a consultant for
Before reaching out to a consultant, take the time to do an internal assessment of your nonprofit. As mentioned, nonprofit consultants can be even more effective if you share specific problems that need to be addressed or goals your nonprofit would like to see accomplished, such as improving your internal organization or growing your social media following.
You'll need to provide some background on your organization for your consultant, as well, so they can quickly get up to speed on how your nonprofit operates and what your expectations are.
For instance, when looking for your web design consultant, you might take the following steps before approaching a potential partner:
1. Website review. Examine your nonprofit's website to determine what you want to see improved. For example, you might decide you want to optimize your website for digital fundraisers.
2. Determine problem areas. If you can define key problem areas for your consultant to target, they can deliver a website that more closely matches your vision.
3. Gather necessary background information. Collect information on your nonprofit that your consultant will need to redesign your website. In this case, you would want to be ready to present your branding guidelines as well as history on your nonprofit, such as your case for support. This will help your consultant create a website that is in line with your nonprofit's mission and brand.
Keep in mind that nonprofit web design consultants have a wide range of services. For example, Cornershop Creative's nonprofit software development page outlines a number of potential services a nonprofit might employ a web consultant for, including app development, plugin optimization, and custom software creation.
3. How to research consultants
While it might be tempting to choose the first consultant you come across, thorough research will ensure that you find a consultant who not only meets your current needs but can become a long-term partner. Remember, this partnership is an investment in your organization's future, and a positive consulting experience can have far-reaching benefits for your nonprofit.
To help you make the right choice the first time, assemble a list of potential consulting partners. You can begin gathering the names of consulting firms through referrals and online resources like this one. Once you've created your initial list, research the following for each candidate:
Price model. Understand how you'll be paying your consultant before making any agreements with them. Some consultants have flat fees, while others charge based on the number of consultation sessions or hours worked.
Past clients. Make sure your consultant has worked with nonprofits in the past, preferably ones that are roughly the same size as your organization and that operate in similar fields. For website design consultants, you might be able to browse a portfolio of previous client work.
Consulting style. This may be more tricky to determine than the prior two points, but having a sense of how a consultant operates beforehand can be invaluable for finding a partner whose approach matches yours. For example, some consultants tend to be more hands off and only respond to specific problems you identify, while others might have a more active communication style.
Finding the right nonprofit web consultant takes time, so be prepared to invest the time you need to research each candidate thoroughly. This is also why it helps to work with a defined set of problems ahead of time. By doing so, you'll be better focused on why you are going through the research process, helping your team to stay motivated. Asking for testimonials and references during the RFP process can help you determine all three of these factors.
4. How to approach consultants
Once you've narrowed your list down to a top few consultants, you can approach them to begin the assessment process. Donorly's guide to fundraising consultants outlines the major steps your nonprofit should take to get off on the right foot with potential consulting partners:
1. Develop a request for proposal. A request for proposal (RFP) is a document that communicates your current needs and your expectations from your consultant. Your previous internal assessment should prepare you to create your RFP. For instance, if you want to improve your website's online fundraising potential, your RFP would explain your overall goal to improve fundraising metrics, provide background information on your nonprofit, set expectations of what improvements you would like to see and in what timeframe, and determine how you will measure your progress.
2. Make initial contact. Call or send an introductory email to each potential consultant first before submitting your RFP. This will help you develop an initial rapport with each consultant and provide an opportunity to ask questions about the consultant's services and provide background information about your organization.
3. Submit your RFP. Send your RFP to each consultant with a due date of when you would like to hear back from them. Make sure to give each consultant an appropriate amount of time to respond so they can return high-quality work.
After you receive a response from each consultant, begin reviewing their proposals. Consider assembling a small team or committee to help choose the one that most closely fits your nonprofit's current needs. Exactly how to determine which proposal is best is up to your nonprofit, but look for consultants who provide actionable steps and set obtainable goals for your nonprofit in their plan.
5. How to establish a working relationship with a consultant
While sometimes you might need a consultant for just one project, it's often more beneficial to find a consultant you can develop a long-term partnership with. That way, the next time your nonprofit needs advice, you'll already have a consultant who is familiar with your organization to go to.
Long-term relationships also allow your nonprofit to seek advice on continuous and ongoing projects such as capital campaigns, major donor cultivation, and website maintenance.
Ongoing relationships are especially valuable when it comes to web design and technology, as your website and tech stack should continually evolve over time. For your web consultant, establishing a working relationship ensures your nonprofit has someone to turn to if you ever want to make a major update or run into any technical issues you can't resolve on your own.
During your research phase, be sure to look into how each consultant prefers to operate. This should give you insight into how involved each consultant gets with clients, if their approach fits yours, and if they match your productivity level. For example, while you might be able to work with a consultant who isn't a perfect match for one or two projects, you'll want to establish a long-term relationship with a consultant whose methods work best for your long-term development.
The Bottom Line
Nonprofit consultants are an invaluable resource for improving nearly every aspect of your organization, including your website. Before hiring a nonprofit web consultant, make sure to review your website to establish your goals, research multiple consultants to find the best candidates, then, approach them professionally and submit your RFP. From there, you can get to work on your current needs and begin what can be a long-lasting partnership.
About the Author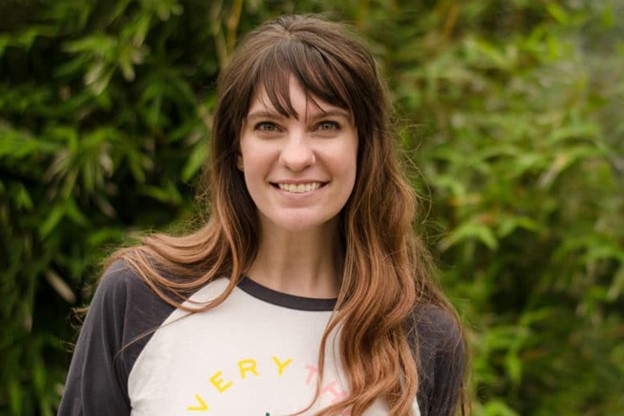 Sarah Fargusson – Director of Digital Strategy at Cornershop Creative
Self-described as a "non-profit junkie," Sarah has dedicated her career to serving the needs of the non-profit sector. Her project management experience spans a variety of non-profit management disciplines including strategic planning, community engagement, capacity building, fundraising and research. She has worked both in and for the non-profit sector at the Feminist Majority Foundation, the Sadie Nash Leadership Project, and the consulting firms The Lee Institute and The Curtis Group. With her ever expanding non-profit tool belt, Sarah joined Cornershop Creative to tap into her techie, creative side, while developing meaningful partnerships with her clients to help them more effectively achieve their goals.