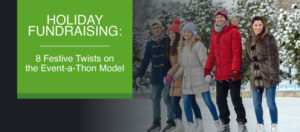 Holiday giving is the single biggest opportunity for nonprofits to bring in the donations that will sustain them through the next year.
From optimizing your website for increased year-end gifts to perfecting your donation ask, you've probably been preparing for the busy season for a while now. There's much to be done, and adding a complicated fundraising event into the mix may be the last thing on your to-do list.
However, what if there was a fundraising event that was both easy to host and effective at boosting your nonprofit's year-end revenue? Enter the event-a-thon fundraiser.
We're going to explore these fundraisers, and the festive twists you can use to make them seasonally appropriate, through the following points:
What is an event-a-thon fundraiser?

8 Festive Twists on the Event-a-Thon
The event-a-thon is an effective, easily planned, and malleable fundraiser to supplement any organization's year-end initiative. During the holiday season, these events are especially powerful when given a festive twist!
We'll start by breaking down event-a-thons in general, before exploring 8 festive variations on the model. Let's dive in!
What is an event-a-thon fundraiser?

An event-a-thon is a fundraising event through which you empower supporters to raise donations on your behalf. It involves setting some sort of challenge for participants to complete, with pledged donations—gifts promised for a later date—coming in upon completion. 
One common example of this type of fundraising is a walk-a-thon (learn more here), though there are many different variations possible for this event.
There are a few easy steps to setting up an event-a-thon:
Plan a fundraising event with some type of supporter participation, such as a walk-a-thon, a 5K, or some other challenge.

Create a pledge fundraising campaign for your event and invite participants to create their own pages in conjunction with it.

Participants share their personal pages with their friends and families, collecting pledged donations corresponding to their eventual participation in your event.

Pledged donations become actual donations after supporters have participated.
This type of fundraiser is valuable in its ability to get your organization in front of audiences you may not have contacted otherwise. It allows supporters to share your nonprofit's story, and their own connection with it, with their larger personal networks.
Each person that makes a pledge just might become a direct supporter of your organization in the future. Because this sharing is often through social media platforms, the potential reach of this effort is huge.
8 Festive Twists on the Event-a-Thon

Event-a-thons are great for year-end fundraising for a couple of different reasons: they're easy to host and they're effective. The low-stress nature of this type of event doesn't diminish its fundraising potential, so it's the perfect event to supplement the busy season.
However, this probably isn't the first time your supporters have encountered the event-a-thon idea. From walk-a-thons to every other athletic iteration you can possibly imagine, your supporters have probably been invited to participate at least once before.
Adding a festive twist to the classic event-a-thon model ensures you're providing a fresh experience for supporters to enjoy, boosting their participation and with it, your results. 
Consider giving your event-a-thon a seasonally appropriate flair with any of the following ideas.
Host an all-night dance marathon with a holiday theme. 
For this event, participants gather pledged donations corresponding to the number of hours they dance to holiday music. At the event, encourage participants to dance the night away and watch the donations rise!
Incorporate music from a variety of winter holiday celebrations, as well as secular wintertime options, to ensure no participant feels alienated in the event. Further, invite participants to wear their best tacky holiday wear for even more festive fun.
Increase the fundraising potential of this event by accepting small donations at the event for donors wishing to request their favorite holiday tune.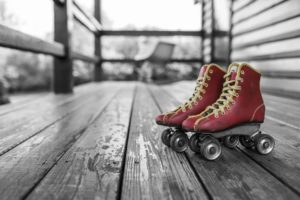 Instead of walking laps around a track, challenge participants to skate laps around a rink for a good cause this winter.
In this instance, the pledged donations correspond to laps skated by participants during the event.
Consider adding another fundraising element by encouraging participants to trade their sneakers for skates at the fundraiser. Invite participants to cull their closets, searching for new and gently worn running shoes to repurpose by donating at the event. These donated shoes later translate into financial donations to your cause.
The shoe drive fundraiser is a great walk-a-thon fundraiser idea, and it pairs well with ice skating-based fundraisers as well. 
Gather your organization's best (or less so) singers for a night of spreading joy to your greater community. 
Invite supporters to participate as individuals, which you'll separate into caroling groups at the event, or to form teams themselves and gather pledges as a team. Participants can gather pledged donations corresponding to time spent caroling, or maybe even homes caroled to— it just depends on how your organization decides to set up the event.
Have everyone meet at one central location, and consider printing simple booklets of holiday carols for reference. Then, teams split up, spreading across your community to perform.
The community-building nature of the event makes it great for a wide range of organizations, whether you're a parent-teacher organization looking for fundraising ideas or a faith-based organization uniting your members during the holidays.
Host a holiday-themed walk/run, with participants gathering pledged donations corresponding to their completion of the challenge.
Generally, the festivity of this event comes from the fun, holiday-themed outfits participants wear for the duration. Here are a few examples:
Santa Run:

Participants dress in their best North Pole-garb, as either Santa Claus or his helpers.

Tacky Holiday Sweater Run:

Participants complete the run wearing their best cheesy holiday sweaters.
Expand the reach of the event by posting about it on social media and maybe even getting local news networks involved. Hundreds of people dressed as Santa Claus for a good cause will certainly make an entertaining news segment!
The holiday season is associated with increased feelings of generosity and gift-giving. More than likely, those gifts need to be wrapped!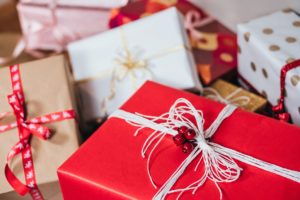 Host a wrap-a-thon event and join together with participants at a large space such as a gymnasium or conference center. Invite your greater community to bring in gifts to wrap. 
In this scenario, pledged gifts can correspond to a few different things: the number of gifts each participant wraps ("X donation for each X presents wrapped) or the group's overall gift wrap goal ("X donation when the group reaches X gifts wrapped").
Bolster the fundraising power of the event by collecting small donations from those receiving wrapping services. Further, consider selling festive T-shirts commemorating the event and uniformly outfitting your participants. Learn more about using T-shirts in nonprofit fundraising through Bonfire.
Winter Solstice Walk-a-Thon
The Winter Solstice is celebrated in many cultures around the world, making it a safe fundraising event when you're working with a diverse supporter base. The holiday celebrates the start of winter and is held on the shortest day (that with the least sunlit hours) of the year.
Host a candlelit walk-a-thon in the spirit of the season.
Because the day will naturally be short, you'll be able to host a night-time event without setting it so late in the day that families can't participate. Line the walking track with candles (or faux candle lights) and encourage supporters to reflect on the year prior and set goals for the upcoming one.
Take care to ensure the walking track is far from potential danger, such as nearby roads. Further, if you're using lit candles, take caution to ensure there aren't any accidental fires or burns (and be prepared with a first aid kit just in case).
Host a serve-a-thon to raise funds while benefiting your greater community.
Organize an event aimed at doing good in your community, whether that's a holiday soup kitchen or a winter necessities (think: coats, socks, gloves, hats) drive. If you're holding a soup kitchen, invite participants to join in preparing and distributing meals at the event. If you're hosting a drive event, invite participants to assist in the collection and distribution of donations.
Invite underserved populations in your community to the event, whether to enjoy a warm meal or to collect needed warm clothing for the winter. Meanwhile, participants gather pledged donations corresponding to the number of hours they volunteer at the event.
While this fundraiser isn't technically an "-a-thon" event as those preceding it, you can still operate it on a pledge basis just as the earlier events.
You're probably familiar with the Polar Plunge Challenge if you have any thrill-seekers in your personal network. If not, the concept is pretty simple to understand: Participants gather at a large body of water, such as a lake, and take a dip in near-freezing temperatures.
Incorporate pledge-based fundraising methods in this event by having participants solicit pledges corresponding to whether or not they actually complete the challenge. For each participant that completes the challenge, your organization is given all of the pledged donations they raised!
Polar Plunges are popular on social media networks. If you're planning to host a plunge this winter, check out this refresher piece on social media in fundraising before doing so.
The event-a-thon is a beneficial supplement to any year-end fundraising push, whether you're working with a faith-based cause or simply looking for great PTA fundraising ideas (such as those in this 99Pledges guide).
From the basic walk-a-thon to any of the above festive twists, you'll be well-served using an event-a-thon to close out the year. Happy fundraising!
Author: Brad Dowhaniuk
Brad Dowhaniuk is the co-founder of 99Pledges, and a writer at WriterZone.net, which provides schools and teams with an easy-to-use, web-based fundraising solution to manage and drive success in Fun Runs, jog-a-thons, baseball hit-a-thons, and much more.